I'm still working on my gazillions of cosplay projects. But with the London Film & Comic Con date approaching faster and faster, where I wanted to wear some of my projects, I started to get overwhelmed by the sheer size of them. And I kinda panicked. I started to drag my feet, procrastinated a lot, fell behind on my schedule… On the other hand, I also admitted to myself that my projects were really 'winter costumes', with several layers, and they didn't seem ideal for a crowded and busy summer comic con. So I put them aside, and then fell off the sewing wagon altogether. Not good.
To kick-start my sewing mojo again, I chased instant gratification projects. The kind you can whip up in an afternoon. My first victim was Simplicity 1365, with their cute vintage 70's style halter tops.
I made View A, but without the lace trim. The print on my fabric was busy enough, I thought it didn't need the extra fluff of a trim. I puzzled a lot to make the pieces as symmetrical as possible, and I think I did a fairly good job!



I love the 70's vibe. Love the peplum. Love the sexy open back. I'm sincerely in love with this top. If only it would look good on me… *sigh* As you know, I've lost a lot of weight, I went from a J cup to a DD… I'll leave it to your imagination, but I really can't go walk around without a bra. And this top is cut very low (it ties at the small of my back, not the middle) so that leaves me without the possibility of wearing a bra. I can still wear it, mind you, but it makes me very self-conscious!
I cut a size smaller than my usual size (I cut a 14) because I read there was some side gaping. I tissue-fitted and it looked fine, but of course I did the fitting with a bra, and the bra-less thing is changing everything about the fit, duh! I discovered the gaping situation very late in the game, basically when my top was 95% complete. How to solve it? Well, I pinched the excess, and made a dart, top stitching it on the outside. The print is so busy, you barely notice it. However, now my top fits perfectly!
---
My next project was a simple t-shirt dress in a very bold print with flowers & butterflies. I dug deep in my dash for this one, and used Hot Patterns HP102, which is now out-of-print (and has been for a while now).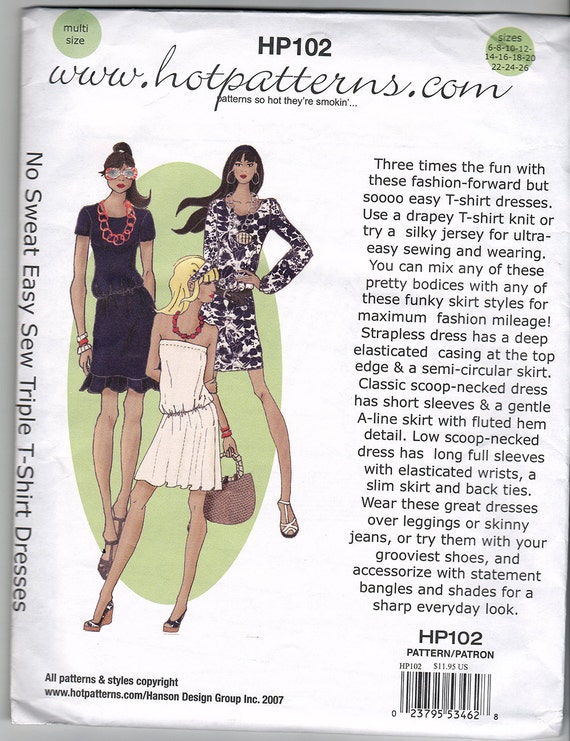 I like it's simplicity. Straight lines, easy elasticized waist. My dislike, as others commented online: facings. Ugh. I used them anyway, but I should have known better. It just wouldn't stay inside, despite understitching and even tacking it at the shoulder seams. While I was hemming my sleeves and skirt with my twin needles, I ran a stitch around the neckline to keep the facing from rolling to the outside, once and for all. I should have just used fold-over elastic or my own neckline binding instead of the facing — I'll know for next time. If there's a next time.




I did my utmost best to match the stripes at the side seams, but it was impossible to match the print itself (I didn't have enough fabric for that). And the sleeves were even more trickier because I didn't have much fabric left. I tried to match the stripes when setting the sleeves in, but meh. It didn't quite work. Oh well. It looks much worse in RTW sometimes, so I'm not going to beat myself up for it.
I used the classic round neckline with the A-line skirt, but left the ruffle out. The dress is maybe a tad shorter than I would have liked, but I'm wearing it with the elasticized waist sitting low, almost at the hip line, and I can get away with it. I know some commented that the bodice is really long: it is indeed long, but since I'm wearing it low, it's actually the perfect length for me.
---
And finally, another old pattern from stash, now out-of-print, Simplicity 2956.
I made the halter bodice with the bubble skirt. This is an easy dress, the notches were matching, and it came together fairly quickly. I just completely missed the step about creating a casing in the seam allowance when joining the bodice to the skirt and I was wondering why the dress was so wide when I tried it on. However, it was too late to create a casing, since I had trimmed the seam allowance with my serger. I ended up stitching an elastic under the tiny seam allowance I had left using a zig zag stitch, and it seemed to work. The inside of the dress lost it's neatness, but no one will see it anyway!



It's a cute design, I was skeptical about the braided tie, but it works well. It's very comfortable to wear, great for the summer. My fabric is a poly/rayon/lycra knit with a gold flowery print. I didn't have a lot of that fabric, so the bodice facing and underskirt are made of a plain poly/rayon/lycra knit in black.
I have an office summer party coming up soon, I thought the gold print matched the occasion 😉
I have several other quick projects all cut and ready to sew, this should keep me busy the coming weekends! Until I pick up my cosplay projects again 🙂